by Katie Mosher on April 19, 2023 | Reprinted for NC Sea Grant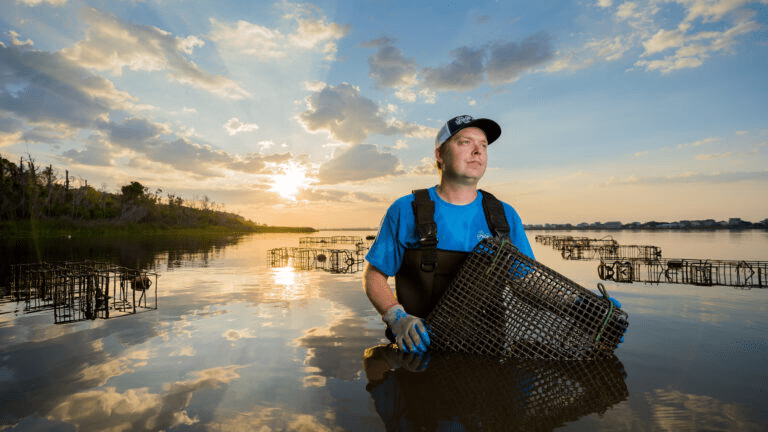 The 2023 North Carolina Oyster Summit will convene on May 9 and 10 at the Marbles Kids Museum in Raleigh. North Carolina Sea Grant is among the sponsors for the summit that brings together oyster researchers, managers, growers, harvesters, restaurateurs, restoration practitioners, state legislators, educators and others.
The North Carolina Coastal Federation is hosting the event to highlight an update for the NC Oyster Blueprint. For 20 years the Blueprint has guided partnerships focusing on restoration, protection, and growing the state's oyster resources. This summit's theme is: Resilient Coasts for Future Roasts.
"The NC Oyster Summit is the premier opportunity to get up to speed on our state's oysters," says Jane Harrison, North Carolina Sea Grant's coastal economist and co-founder of the North Carolina Oyster Trail. "Sea Grant has been a long-time partner not only for the NC Oyster Summits, but also over many decades of oyster research and outreach."
The NC Oyster Trail will be the topic of an oyster tourism panel on May 10. Ghost Fleet Oyster Co. will share their experiences as oyster growers and also discuss what it's been like to open their farm for agritourism.
In addition, Eric Herbst, North Carolina Sea Grant's coastal aquaculture specialist, will serve with partners on a panel highlighting successes and challenges for oyster mariculture. Speakers include Chris Matteo, president of the N.C. Shellfish Growers Association, and Tal Ben-Horin, a shellfish pathologist from NC State University. The session also will provide an update on the NC Shellfish Farming Academy based at Carteret Community College.
"When I think of resilience and North Carolina's coast, two things immediately come to mind, shellfish farmers and oysters. In spite of three hurricanes and a global pandemic, our state's shellfish aquaculture production has more than doubled in the last five years," Herbst notes.
"Wild harvests are trending up as well. Oysters and clams are inherently resilient bivalves. But the success also is a testimony to the efforts by shellfish growers along with local, regional, state, and national organizations, institutions and agencies. All are working together and toward a common goal."
For NC Oyster Summit registration and other details, visit: https://www.nccoast.org/event/n-c-oyster-summit-resilient-coasts-future-roasts/
"In addition to learning from the experts panels, you can sample oysters from along our coast, and even experience a shucking competition at the reception" Harrison adds.
https://ncoystertrail.org/wp-content/uploads/2023/04/image.png
432
768
Michaela Abraham
https://ncoystertrail.org/wp-content/uploads/2022/01/NCOysterTrail-1.png
Michaela Abraham
2023-04-19 10:10:34
2023-04-21 10:14:43
North Carolina Oyster Summit Set for May 9-10