Brunswick County Farm Bureau Kenan Fellow dives into North Carolina's oyster industry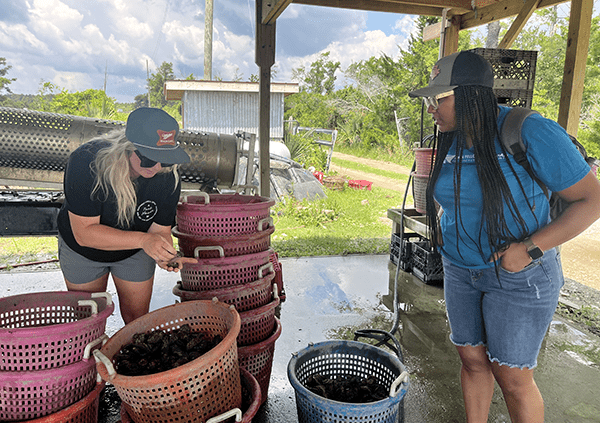 by Amneris Solano on October 5, 2023 | Reprinted from Kenan Fellows
BOLIVIA, N.C.⸺On a sweltering summer day in mid-July, high school earth environmental science teacher Ashanda Grissett boarded an oyster boat off the North Carolina coast. Grissett's mission was to immerse herself in the intricacies of North Carolina's $14 million oyster industry and distill her newfound knowledge into an educational Ag Mag for North Carolina Farm Bureau's Ag in the Classroom program.
"There was a thunderstorm the night before. The wind knocked many of the oyster cages over," Grissett recalled. "The water wasn't that deep. The oyster farmer jumped off the boat and walked around to turn the cages over. During the boat ride, he showed me oysters at various stages of their lifecycle."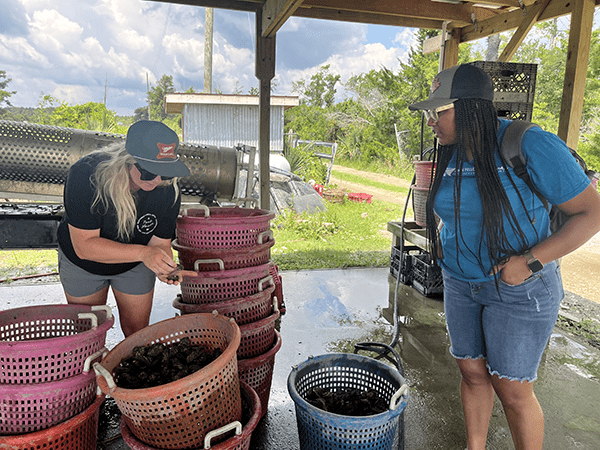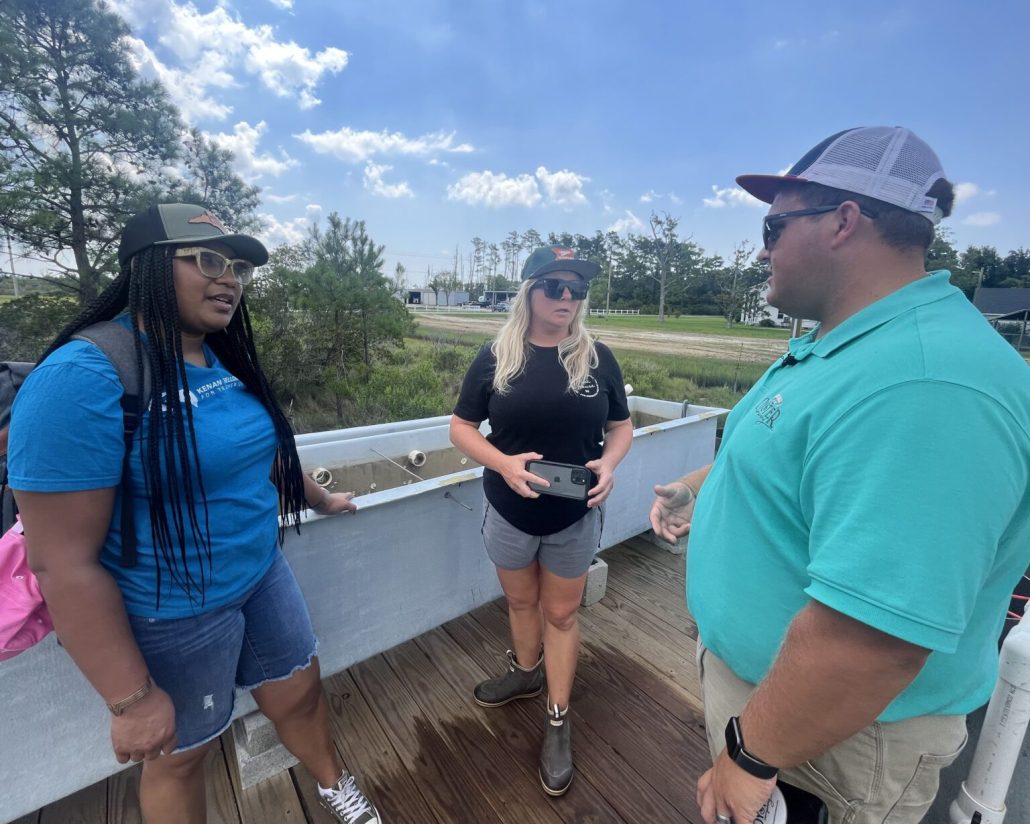 Exploring North Carolina's Oyster Industry
Grissett, a 2023-24 Kenan Fellow, teaches ninth-grade earth environmental science at The Center of Applied Sciences and Technology (The COAST) in Brunswick County Schools. She was named the 2023-24 Teacher of the Year at her school. Grissett admits to having a limited understanding of oyster farming before her internship.
Throughout her three-week internship, Grissett visited four different oyster farms, giving her a comprehensive overview of oyster cultivation from larval to adulthood.
"It was such an interesting journey because I had a different experience at each farm and saw the entire process," Grissett recalled. "I also got to eat fresh oysters straight from the water, which was delightful."
Accompanying Grissett on her oyster farm tours was her Brunswick County Farm Bureau mentor, AJ Stanaland, the owner of Northwest Land & Cattle. Stanaland arranged all aspects of Grissett's internship and is now working with her to develop the Ag Mag.
"As a mentor, she was amazing," Grissett stated. "She had everything lined up and ensured I had a great experience."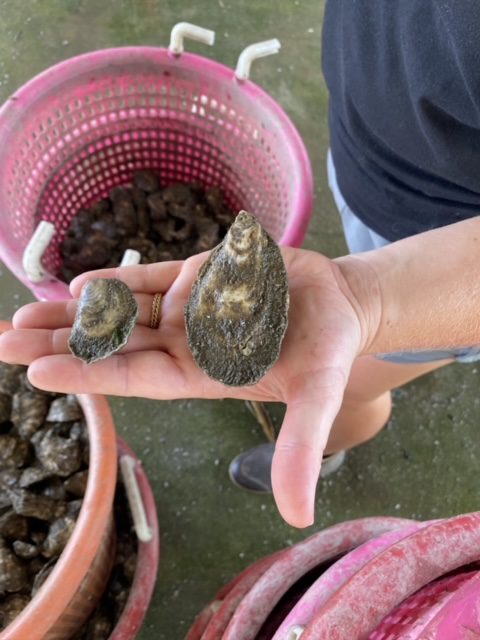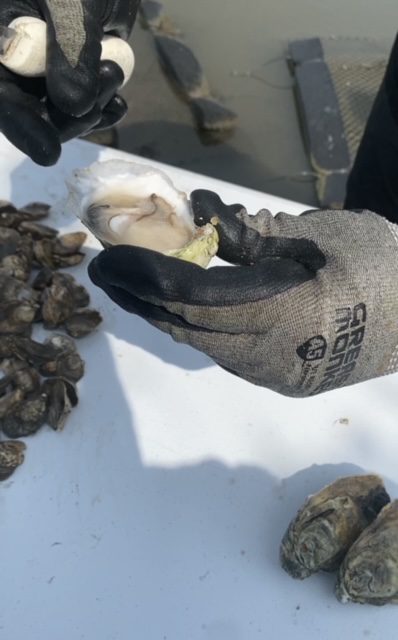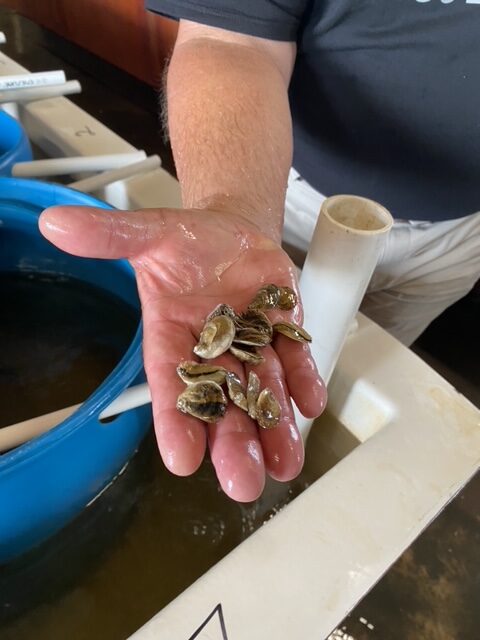 Enhancing Ag Education with the Oysters Ag Mag
Grissett is particularly excited about the virtual aspect of the North Carolina Oysters Ag Mag. Embedded within the publication will be QR codes, allowing students to scan and access a series of videos shot during the summer internship. In these videos, Grissett will narrate information about oyster farming and oyster science to augment the learning experience.
"I like the addition of the virtual component to the year's Ag Mag because we have all types of learners in the classroom," Grissett emphasized. "Some of our students learn better by reading while others are visual learners or auditory learners. It makes the Ag Mag more accessible."
Ag Literacy and STEM Connections
Since 2013, the Kenan Fellows Program for Teacher Leadership at N.C.State University has partnered with North Carolina Ag in the Classroom, the NC Farm Bureau Federation, and a local county Farm Bureau to support an educator who explores a specific agricultural industry. These educators learn about the science behind crop and animal cultivation and explore potential career pathways for students within their region.
Grissett follows in the footsteps of four previous NC Farm Bureau Federation Kenan Fellows who have explored North Carolina's agricultural industry and created Ag Mags, digital and print resources based on the North Carolina Ag Mags model.
Packed with fun facts, activities, and career spotlights, the Ag Mag is a STEM-supported teaching tool that provides students with insights into North Carolina's agriculture industry. Previous Kenan Fellows have produced Ag Mags on beef production, Christmas tree farming, hog production, and peanuts.
Heather Morton, director of North Carolina Ag in the Classroom, underscored the significance of this partnership between the North Carolina Farm Bureau and the Kenan Fellows Program.
"The most important and meaningful aspect of this partnership is that we are providing local opportunities for educators about agriculture, our state's number one industry," Morton stated. "Agricultural literacy is so important for students, and agriculture has so many STEM and interdisciplinary connections."
Watch a 

video

 about Grissett's experience produced by the NC Farm Bureau.
https://ncoystertrail.org/wp-content/uploads/2023/11/23-Farm-Bureau-01.png
450
600
Michaela Abraham
https://ncoystertrail.org/wp-content/uploads/2022/01/NCOysterTrail-1.png
Michaela Abraham
2023-10-05 10:41:41
2023-11-10 10:54:04
Brunswick County Farm Bureau Kenan Fellow dives into North Carolina's oyster industry