Oysters take center stage at Flying Machine's WB restaurant, its beer to flow soon at ILM

by Shea Carver on May 30, 2023 | Reprinted from Port City Daily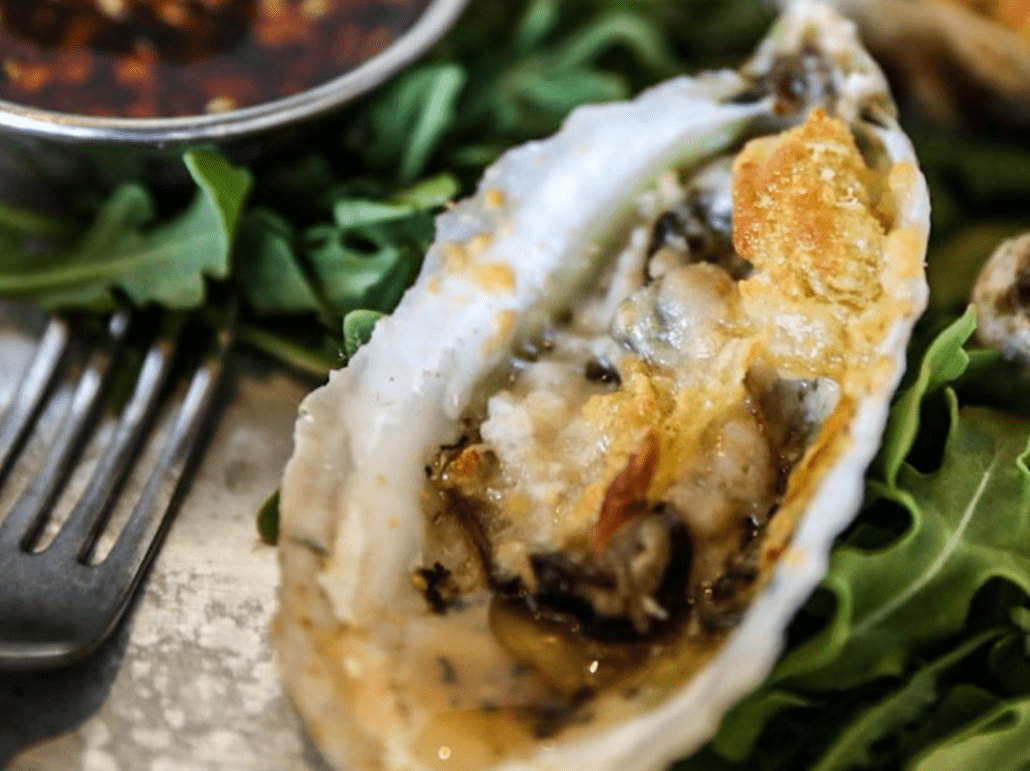 NEW HANOVER COUNTY — Almost two years after opening its restaurant and taproom on Wrightsville Beach, Flying Machine is leaning more into its coastal roots as it undergoes a transformation this summer.
What was once known as Flying Machine Taproom and Kitchen will become Flying Machine Oyster Bar in the next two months.
"With the additional focus on oysters, we thought the best way to do it was to actually change the name rather than just update the menu," co-owner Grant Steadman said.
Diners, especially vacationers to Harbor Island, expressed an interest in tasting more seafood, especially locally caught, since the restaurant opened in 2021. Steadman and co-owner Dave Sweigart decided to listen.
"Our waterways have a lot to offer," Steadman told Port City Daily two weeks ago.
Flying Machine's chef, Ryan Jankowski, already works with Middle Sound Mariculture and N. Sea Oyster Farm. Steadman said they're expanding to work directly with more farmers as well, with a goal to have four or more kinds of oysters available.
"A lot of farms are about to open up in our area or have just begun harvesting," he added.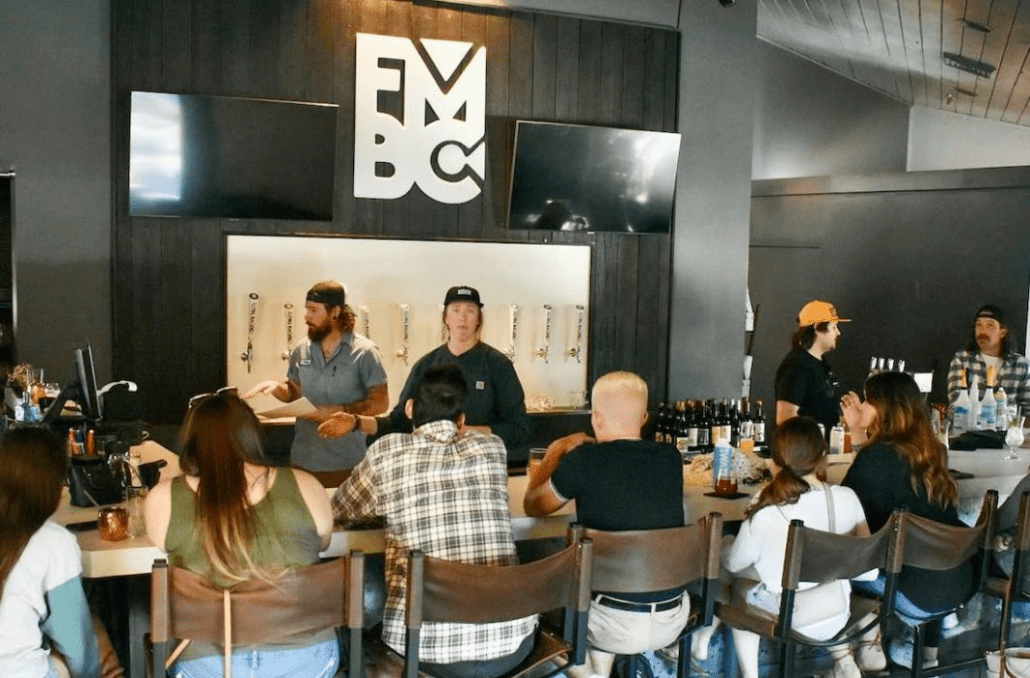 The bivalves will be situated in a newly installed raw bar that takes up roughly half of the current draft bar in the main dining area. A shucker will be on hand to educate visitors about the oysters, where they come from, the flavor and growth process. — Traditionally oysters in North Carolina are at the height in months that end in "R." During the offseason, when the water is warmer, Steadman said they may bring in oysters from Virginia, Massachusetts and Canada.
"But the real focus is going to be on our waterways because we want to be an example of our local fare," Steadman said.
Once the oyster bar opens, a new menu of shooters will launch as well. Bar manager Brian Pratt has been devising a few different takes. Naturally, the traditional vodka-based tomato concoction will be sold, but there will also be a Mezcal shooter, which most excites Pratt.
"The mezcal with the oyster gives the shooter a roasted oyster flavor," he said. "We're using lime, celery, cucumber, tomatillos, green Tabasco, fresh cracked salt and pepper — it's smokey, briny and delicious."
A chicken noodle soup shooter makes for another original flavor; FM released it last year to fanfare. It contains vodka, clamato, celery seed, Worcestershire sauce, lemon and a spiced salt rim.
"One of our most unique ingredients is our housemade chicken noodle soup-infused vodka," Pratt said. "We do that by infusing vodka with celery, parsley, onion, carrot and some chicken stock."
Pratt has been studying various recipes and ingredients to devise a fun shooter menu. He calls oysters the most alluring to work with because of the flavor profiles.
"They are so surprising and incredible, I love incorporating them into the cocktail program here," he said.
The restaurant works with local fishermen but also other regional purveyors for vegetables, grains and protein. Tidewater Grain Co. from Oriental, North Carolina, for instance, provides Flying Machine its heirloom rice.
According to Jankowski, Seven Springs "has the best pork in North Carolina." It can be tasted in the shrimp and grits. Created with Carolina stone-ground grits, the cornmeal is slow-cooked in milk, the local shrimp poached in butter, finished with a fresh Parmesan and Cheshire pork bacon.
"A perfect summer dish," he said.
Jankowski, who has been working in kitchens for 15 years, attended the Culinary Institute of America Hyde Park and most recently worked under Chef Patrick Hogan at Caribsea on Emerald Isle. He moved to Wilmington and began his tenure at Flying Machine last fall. In April, Jankowsi launched a new seasonal menu, highlighting the classics of the South and Low Country.
"We took many older classic dishes that are tried and true and, in our way, reconstructed them with local ingredients," he said.
Collards, for example, are slow-braised and highlighted in a creamy collard baba — a Southern take on the Middle Eastern baba ganoush. The earthy flavor is brightened by lemon instead of vinegar in the pot liquor and served with peanut gremolata, parsley and olive oil, with pita. The chef approached the item to appeal to vegetarians as well, replacing bacon fat with oyster and shitake mushrooms to bring back the texture and umami flair.
Last fall he served greens as part of an oyster special, having cooked them in miso before placing them atop the oyster, with Parmesan and bacon fat biscuit crumbles.
The restaurant is open for lunch and dinner, and while seafood will play more prominently, Jankowski hasn't done away with other dishes, both vegetable- and meat-forward. In fact, one of Janowski's favorites is the Southern summer classic: tomato heirloom sandwich.
"Coming into some hot days, with people coming and going for a long day on the beach or the boat, we really wanted to keep this menu light and refreshing and easy to pair with a cold beer," he said. "Local heirloom tomatoes, herbed cream, pickled onions with lemon zest and peppery arugula — it's addicting and doesn't weigh down your palate."
"Ryan has experience and passion for seafood and we've been really lucky to have him," Steadman said. "And he's definitely a driving force behind this raw bar concept."
As Flying Machine prepares for changes to its restaurant, its flagship brewery on Randall Parkway could be ramping up production soon as well. FM beer will be landing at Wilmington International Airport (ILM) in one of Tailwind Concessions satellite bars.
"We approached them with the idea of selling beer in the airport, and obviously with their expansion, they are looking to do different things," Steadman said.
Tailwind president Jeff Switzer, who oversees concessions at ILM, said that's how a lot of their partnerships grow: when businesses reach out as vendors.
The bar will be located along the new terminal near gates seven, eight and nine. Switzer said working with locals gives the airport a sense of place.
"We try to be good stewards of the community — the first thing people see when they fly in, and the last thing they see when they're leaving the airport are local businesses," he said.
Though details are still being hammered out on which beer FM will be selling, Steadman said the goal is to switch out flavors frequently. The brewery has an end-of-summer target to tap the beer at the Delta and American Airlines gates.
"We're proud of being creative with our beer," Steadman said and added, by fall, after the oyster bar is up and running in Wrightsville Beach, FM's oyster stout will likely return.
https://ncoystertrail.org/wp-content/uploads/2023/06/image-6.png
703
1068
Michaela Abraham
https://ncoystertrail.ncoysters.org/wp-content/uploads/2022/01/NCOysterTrail-1.png
Michaela Abraham
2023-05-30 11:42:33
2023-06-17 11:42:58
Oysters take center stage at Flying Machine's WB restaurant, its beer to flow soon at ILM