A Sensational Seafood Tower: Your Cheat Sheet to a Surprisingly Attainable Luxury

by Kathleen Squires on December 16, 2022 | Reprinted from The Wall Street Journal
Nothing says celebration like a seafood tower, and that classic extravagance is trending again just in time for your holiday party. Here's your guide to all the gear, garnishes and gorgeous shellfish you'll need to construct a proper show-stopper.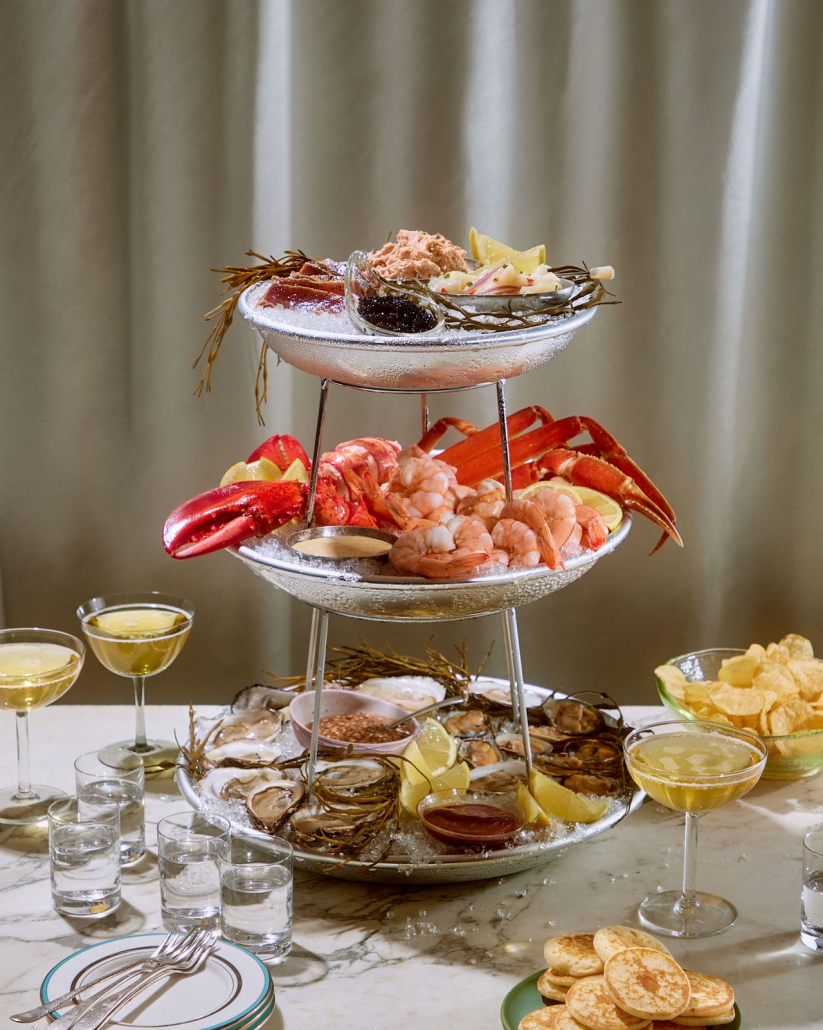 IMMEDIATELY UPON entry to Deux Chats, the Art Nouveau-style bar/restaurant in Brooklyn, N.Y., you're greeted with an extravagant bar-top display of crab legs, lobster claws, shrimp, oysters, clams and sunny lemons, all perched on mounds of crushed ice. In the dining room, heads turn as two-tiered seafood towers parade by. At the base of the one that landed on my table, mussels, oysters and clams nestled among seaweed tendrils, pickled vegetables and radishes. The top tier featured a kick-line of those crab legs, bright-red lobster tails and shrimp, plus pink cubes of salmon crudo garnished with wasabi caviar, and a dainty dice of tuna tartare served on scallop shells.
A display like this invariably inspires a chain reaction of copycat orders, at Deux Chats and at restaurants around the country where the classic seafood tower is this season's towering success.
Though this sort of swanky display might not be what you'd expect to see more of as inflation soars, Deux Chats executive chef Nicole Gajadhar said she designed her tower to be "indulgent and celebratory," with the extra flourishes of crudo and tartare, plus brioche buttons and seaweed butter, to bring it "beyond what people would normally expect." And in Manhattan, chef Edgar Panchernikov created an exceptionally opulent tower for the launch of the Bar at Caviar Russe, a raw-bar extension of a 25-year-old restaurant. Instead of the standard tiered tower, the generous offering of oysters, shrimp, lobster, king crab, Hamachi, bluefin, sea trout, fluke and caviar sits upon a pyramid of shaved ice.
In Mr. Panchernikov's view, this style of service seems perfectly in tune with the times. "Since the pandemic, I think people not only want to treat themselves with something special, but they are in search of sharing and community," Mr. Panchernikov said. "The seafood tower is perfect for sharing."
Chef Thomas Keller, too, detects a desire for social interaction in the tower's current popularity: "This idea of sharing and nurturing each other is especially important today." At Bouchon in Yountville and Las Vegas and the Surf Club in Miami, Mr. Keller favors a classic presentation that "stretches back generations and generations, evoking the oyster bars at Les Halles," the late, legendary market at the heart of Paris.
Chef Ken Oringer's "full-on love affair" with seafood towers stems back to his time training as a cook in France. "In Paris, I loved that there's no holding back on them," he said. He said he has included an iteration at every restaurant he's opened, but he acknowledged that the seafood tower is having a moment. "The seafood available right now has never been better," he said. The tower at his newest restaurant, Faccia a Faccia in Boston, changes daily in order to respond to what's best and freshest. It currently includes live sea urchin, live scallops, ruby red shrimp and black bass crudo in addition to the usual suspects. "From a restaurant perspective, seafood towers are good business. They sell themselves," said Mr. Oringer. He also noted the relatively low labor involved.
At the Ordinary in Charleston, S.C., chef Mike Lata uses the tower to showcase the local catch and support the fishing trade. "Post-pandemic, we realized that our purchasing dollars could really make a difference locally," he said. "Now 90% of our food comes from local waters."
Chef Dean Neff of Seabird in Wilmington, N.C., sources his towers close to home, too. "It's an opportunity for us to get people to appreciate things that are local and a little outside of the box," he said. "We have a variety of 8-10 super-seasonal things on there." That might include more-familiar items like local crab claws but also rarities such as ribbed wild mussels, whelks and pinshell clams. From the abundance of locally caught bluefish, mackerel and mullet, he makes smoked dips.
Perhaps the classic tiered tower will forever be associated with Belle Époque-style indulgence, but that doesn't mean it can't evolve with the times, too. At Crossroads Kitchen in Los Angeles, chef Tal Ronnen offers a vegan version, initially inspired by lobster mushrooms from the Pacific Northwest. "They are grown on the coast so they are kissed with that ocean mist," Mr. Ronnen said. "They also have a beautiful orange color and a flavor that resembles the ocean." His tower features oyster mushrooms "Rockefeller," smoked carrot "lox" and kelp caviar. A choice of tequila or vodka shooters makes it extra celebratory.
Shots of Goldwasser feature among the innovations on chef Ann Redding's tower at Thai Diner in New York City. Thai nam phrik (spicy chile sauce) and tom yum (lemongrass, galangal, lime, chile) complement oysters, shrimp, crab, mussels, scallops, octopus, squid and caviar, served on ornate prayer offering platters made in Thailand.
Maybe that sounds like a tall order to pull off yourself. But a seafood tower is actually an attainable luxury to enjoy at home—low-prep, high-impact, ideal for entertaining. With the following tips, you can fashion a fabulous tower for your next party. Go ahead and invite the A-list. If you build it, they will come.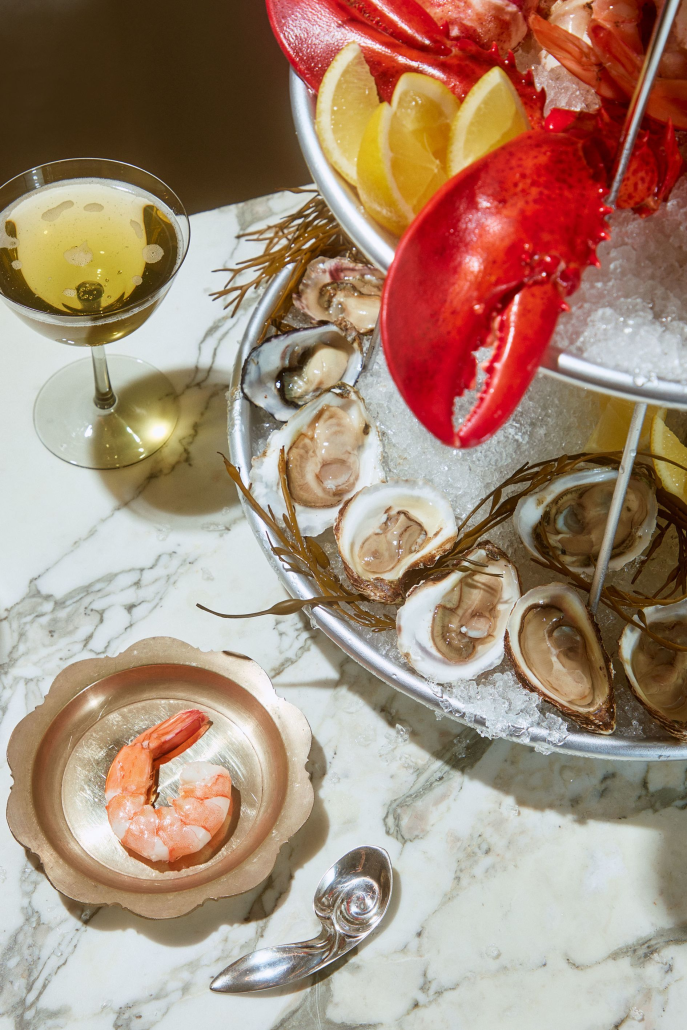 HOW TO BUILD THE ULTIMATE SEAFOOD TOWER
1. Choose your tower
Nicole Gajadhar of Deux Chats advised choosing a material that is a good conductor of cold, such as metal, ceramic or glass. The platters should be deep enough to hold ice, with a lip to prevent dribbling once the ice melts. No tower? Create tiers by filling a large bowl with crushed ice. Place a medium bowl in the center of the ice in the larger bowl, and fill that bowl with ice. Continue stacking with ever smaller bowls until you have as many tiers as you need. Or, stack round, lipped trays with small bowls between to create tiers. Cake stands can work as long as the platters are lipped.
2. Make a plan
Seabird's Dean Neff recommended drawing a map outlining what you want, thinking beyond the main elements. "Include something with crunch, such as crackers, a slaw or even raw vegetables, which can act as a palate cleanser," Mr. Neff said. "Include something pickled and something spicy, such as horseradish or hot sauce, for brightness and balance." Caviar Russe's Edgar Panchernikov recommended thinking of the tower as sculpture. "Place the most luxurious items at the top and the center so that they don't get hidden," he said. Faccia a Faccia's Ken Oringer thinks about what can be made ahead. "Keep it somewhat simple," he said. "Save yourself extra work where you can."
3. Secure ingredients
At your fishmonger, buy as many precooked and prepped items as possible: shrimp cocktail, peeled and deveined; lobster and crab, already cracked. You can even have them shuck oysters and clams. "Just ask to leave the bottom muscle attached," said Mr. Oringer. "That way they won't start decaying. Cover them with plastic wrap to keep them from drying out. Keep chilled until you serve, ideally the same day." Pick up a nice gravlax or sashimi to add variety, said Mike Lata of the Ordinary. Ask for seaweed, too, to use as a decorative touch.
4. Be cool
Chill all ingredients and surfaces you will serve seafood on, Mr. Neff advised. An hour in the fridge does the trick. Ms. Gajadhar suggested crushing ice in a food processor. Or, use Mr. Panchernikov's method "Wrap a bag of ice in a towel and smash it with a rolling pin." Wait until the last minute to place the ice on the tower. Pro tip from Ms. Gajadhar: A little kosher salt in the ice helps it stay together as it melts.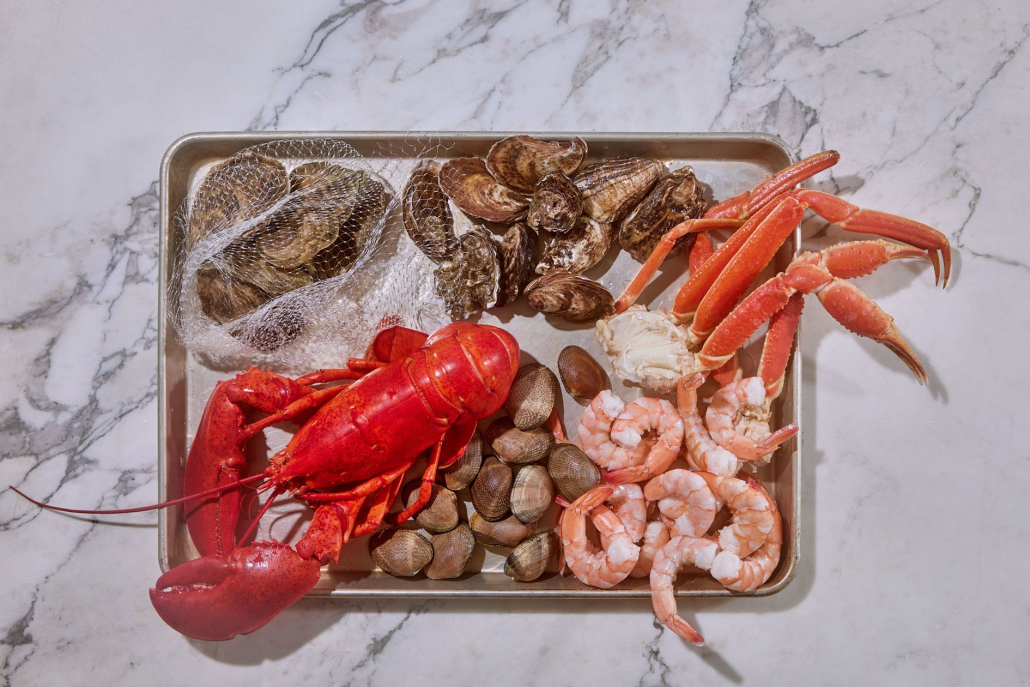 5. Place the seafood and sauces
Arrange the shellfish according to your plan. Place raw items such as tartars and ceviche, as well as dips and spreads, on plates and in ramekins. Hang the shrimp, embed the crab legs and make sure everything is easily grabbable. Shuck the oysters and clams if your fishmonger hasn't done that, and add those last. "Place sauces in bowls or ramekins and set near ingredients they are meant to pair with," said Mr. Panchernikov.
6. Garnish
Fill in gaps and get creative. Use seaweed, lemon wedges, herbs, decorative shells, edible flowers, even lobster heads. Stick in alcoholic shooters if you wish. Place accompaniments like blini, crackers and potato chips on the side, off the ice, so they won't become soggy, Mr. Lata instructed. And don't forget tools and serving utensils such as seafood picks, lobster and crab crackers, small forks, small sauce spoons and caviar spoons.
7. Pair it up and enjoy
Pop the bubbly, crack an ice-cold beer, uncork a crisp white wine or pull the vodka out of the freezer. Then raise a toast to your towering creation.
Photographs by Chelsie Craig for The Wall Street Journal, Food Styling by Anna Billingskog, Prop Styling by Sophie Strangio
https://ncoystertrail.org/wp-content/uploads/2022/12/image-8.png
1601
1280
Michaela Abraham
https://ncoystertrail.ncoysters.org/wp-content/uploads/2022/01/NCOysterTrail-1.png
Michaela Abraham
2022-12-16 11:19:00
2023-01-11 10:36:03
A Sensational Seafood Tower: Your Cheat Sheet to a Surprisingly Attainable Luxury