Bill would fund efforts to support growing shellfish industry

by Jennifer Allen on June 6, 2022 | Reprinted from Coastal Review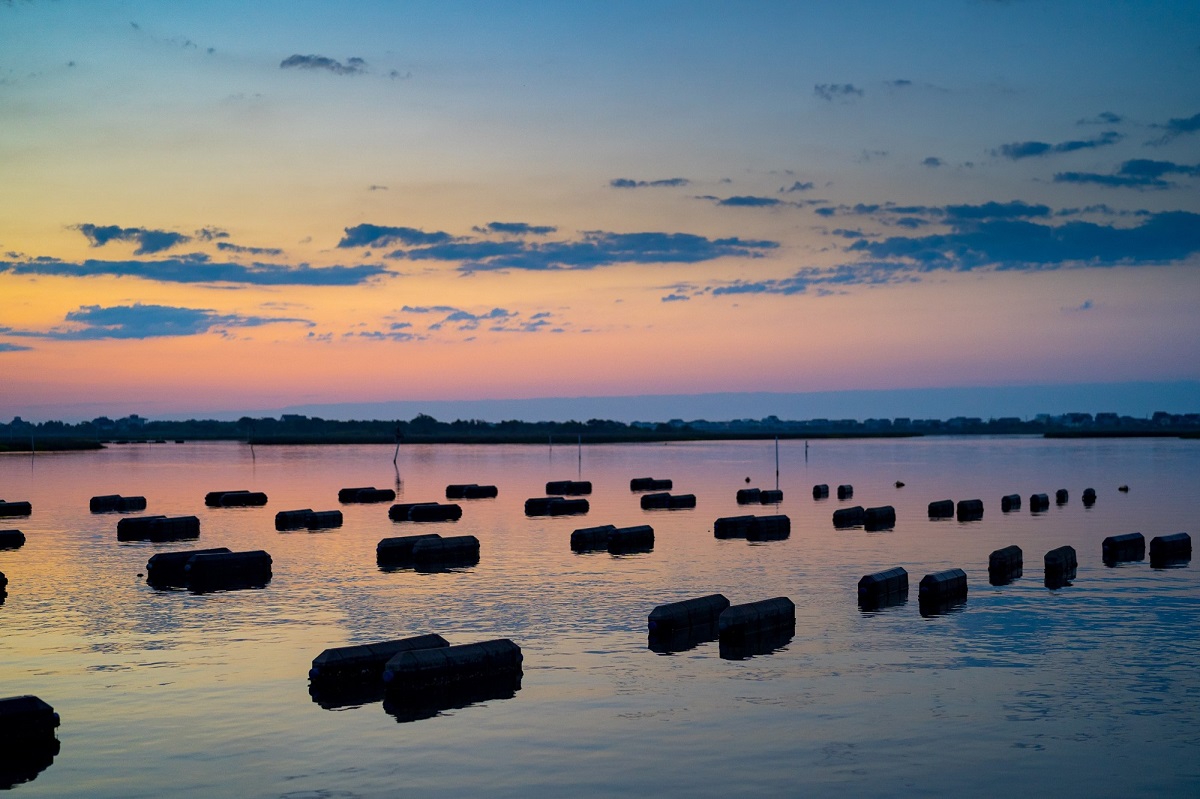 Last year was a banner year for farmed oyster production in North Carolina, with a 111% increase compared to the previous year.
The state's shellfish industry had $27 million in economic impact and supported 532 jobs in 2019, according to the latest available economic totals, and various groups are working together to double the number of jobs by the end of the decade.
Legislation introduced last week would fund numerous projects to protect coastal water quality to the tune of $8.5 million. Of that, $1 million is to match a federal grant for oyster sanctuary development, which is seen as key to growing oyster populations, improving water quality and supporting the shellfish industry.
On Thursday, Rep. Bobby Hanig, R-Currituck, filed House Bill 1151, which would provide money for living shorelines, oyster sanctuaries, marine debris cleanup and other water quality projects and for promoting the North Carolina Oyster Trail, a collaborative effort to promote oyster-based tourism experiences aimed at culinary travelers. The measure passed a first reading Tuesday and was referred to the House appropriations committee.
Hanig introduced the measure after a meeting Tuesday of the Marine Resources and Aquaculture Committee, which he chairs. The meeting included presentations by various groups seeking to advance the oyster farming industry and wild oyster restoration efforts, including seafood purveyors and the nonprofit North Carolina Coastal Federation, which publishes Coastal Review, North Carolina Sea Grant and the North Carolina Shellfish Growers Association.
"This bill provides policy guidance and more financial resources to enhance water quality and the resiliency of our coastal communities while increasing the productivity of our coast's fishery habitats," said Coastal Federation Executive Director Todd Miller.
Demand for NC oysters outpacing supply
Ryan Speckman and Lin Peterson launched Locals Seafood out of the back of a truck in Raleigh in 2010, specializing in North Carolina seafood. They told the House committee that back then, the product was all wild oysters.
Now, Speckman said, they're probably the largest distributor of different varieties of North Carolina farmed oysters. The seafood company trucks in oysters from all along the state's coastline to distribute to restaurants, markets and stores in the Triangle. The company also operates two oyster bars, one in downtown Raleigh and the other in downtown Durham.
Speckman said the oyster industry is "definitely an area that we can see more growth, and there's a lot more potential."
Peterson added that even though the company is built on connecting North Carolina consumers with North Carolina products, demand is greater than supply and the company must bring in oysters from out of state.
But, there's evidence that the state's oyster industry is growing to meet the demand.
Jane Harrison, North Carolina Sea Grant coastal economics specialist, told the committee that the goal of a $100 million shellfish industry in North Carolina that supports 1,000 jobs by 2030 was possible, "looking at our trajectory over the last few years."
The goals had been set as part of the 2019 North Carolina Strategic Plan for Shellfish Mariculture that the legislature had mandated two years earlier.
Harrison said that 2019 was the first year that farmed oysters contributed more than wild oysters in total economic value. Although there were over the past decade declining production values for wild oysters and clams, market growth for farmed oysters is "really bringing the value to our shellfish industry these days," she told the committee.
Evidence of that growth can be seen in the number of shellfish farming leases. From 2020 to 2021, Harrison said there was a 10% increase in the number of leases. She added that North Carolina is seeing mostly water column leases, which allow floating cages, and bottom leases where oysters are grown below the surface. "We see higher productivity, really a better investment," with water column leases, she said.
During the period, there was a 22% increase in water column lease acreage.
"Why does that matter? Again, because these (water column leases) are more productive. So because we have more productive farms coming online, we're going to hopefully have much higher production numbers, shellfish landings and economic value," Harrison said.
Although hurricanes and the coronavirus pandemic had slowed interest somewhat, the trend is improving again.
"We are seeing a pickup just from last year," Harrison said, "a 16% increase in the number of applications to establish these kinds of farms."
Along with the growth in oyster farming, Harrison said the decline in wild oyster harvests could be reversed.
"We can bring those back if we improve water quality, if we invest in oyster sanctuaries, in the habitat that supports them. The farmed oysters are making up some of the some of the losses," she said.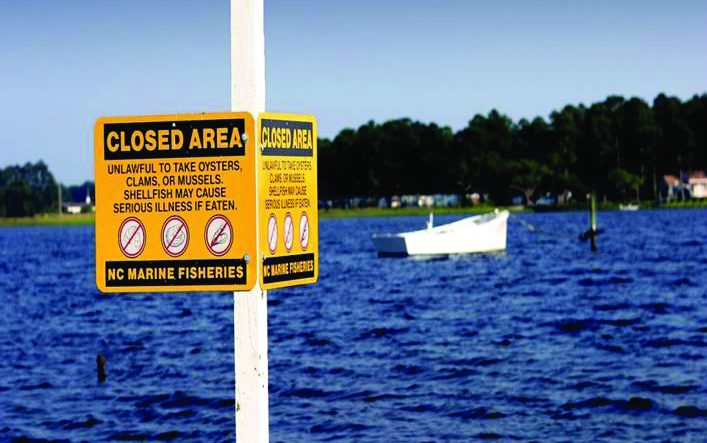 Closed to shellfishing
The North Carolina Division of Marine Fisheries has an interactive map on its website that shows where waters are temporarily or permanently closed to shellfishing because of pollution. Other waters are off-limits to shellfishing because of moratoriums on shellfish leasing.
Sanctuaries not only create oyster habitat, they also lead to improved water quality.
Erin Fleckenstein, coastal specialist with the North Carolina Coastal Federation and a presenter during the committee meeting, told members that much progress had been made in the year since the most recent update on the North Carolina Oyster Blueprint, a plan for restoring and protecting oyster habitat. More than 50 stakeholders across the state worked on the blueprint.
"We've made a lot of progress in the last year since that blueprint has come out," Fleckenstein told the committee, adding that the successes have been because of the state's investment in the oyster industry and improving water quality.
A program to build oyster sanctuaries is on track to reach the Oyster Blueprint goal of building an additional 100 acres of oyster sanctuary in Pamlico Sound by 2025. Fleckenstein said the sanctuary program had a 25-year track record of success and "we're poised really well to reach that goal of 500 acres of oyster sanctuary by 2025."
There are currently 15 oyster sanctuaries in Pamlico Sound as part of the Sen. Jean Preston Oyster Sanctuary Network that together cover about 260 acres. Oyster sanctuaries make up only about 6% of all oyster reefs in Pamlico Sound but contribute nearly 40% of the sound's oyster population.
Harvesting is prohibited in oyster sanctuaries. They are protected to encourage growth of large, healthy oyster populations. Each year, the oysters produce millions of eggs that are carried by currents and tides to surrounding areas.
Jason Peters, who oversees the sanctuary, artificial reef and cultch planting programs for the North Carolina Division Marine Fisheries, told the committee that oyster sanctuaries are half of a two-prong approach to restoring the oyster population. The other prong is the open-harvest cultch-planting program, which supports the wild-harvest industry. The division builds the open-harvest reefs, and when the oysters reach the right size they can be harvested.
Pamlico Sound is the primary focus of the sanctuary program, Peters said.
Each oyster sanctuary site covers about 80 acres. Work began last year on Cedar Island sanctuary, the current project, which is permitted to be about 75 acres and expected to be complete in 2024.
"Oyster sanctuaries do in fact strengthen and support the oyster population in Pamlico Sound," Peters said. The sanctuary sites produce lots of oyster larvae, which is dispersed into the water column and then settles on reef sites.
While the sites represent a small fraction of the total oyster habitat in Pamlico Sound, sanctuaries in the sound are producing about 25% of the larvae that are supplied to the ecosystem.
Peters emphasized the sanctuary network's role in supporting the entire Pamlico Sound oyster population.
"Those larvae spread all throughout the Pamlico Sound and support reefs that are open to harvest. They subsidize commercially harvested reefs with critically important larvae," he said. "And among other benefits, they are spectacular water filters, filtering dramatic amount of water with a small area so quite a benefit. and they last a long time and then."
Not only are the oyster sanctuaries providing habitat for fish and oysters, but they're also creating economic opportunities in coastal communities, said Fleckenstein, who cited Stephens Towing Co. as an example. The company has long worked with the federation and the National Oceanic and Atmospheric Administration in building reefs in Pamlico Sound.
Will Hollowell, the company's operations manager, told the committee that the company was equipped to build reefs at the right pace and at the right price. With one barge, more than 1,000 tons of rock or other materials can be placed in a day. And the work also employs others, such as the truck drivers who are moving rock from North Carolina quarries to the barge operators who are coastal residents.
Along with reefs, demand for living shorelines has continued to grow, Fleckenstein told the committee. She said living shorelines also provide oyster habitat and they gird shorelines from erosion and protect and improve water quality, which is key to supporting the shellfish industry.
"We don't want to risk the great reputation of North Carolina oysters by having people getting sick (from) eating oysters that are grown in poor water quality," she said.
Fleckenstein told Coastal Review that Hanig had requested annual updates to the committee on the progress. She said the legislature's desire to understand the progress being made in North Carolina's oyster work was encouraging.
Less encouraging, as members of the committee noted, were moratoriums that prevent development of oyster farming operations in certain waters.
One moratorium in Brunswick County dates back to 1967 and another for a portion of Core Sound to 1993. The General Assembly in 2019 enacted shellfish moratoriums in waters from the Wrightsville Beach drawbridge through Masonboro Inlet to the mouth of Snows Cut in New Hanover County and in Bogue Sound in Carteret County that were to expire in 2021 but were extended last year until 2026.
Rep. Pricey Harrison, D-Guilford, suggested that the committee consider ways to address the moratoriums. Hanig agreed, saying it was imperative.
"This industry impacts traditionally low-wealth counties, and we do everything we can to build them up," Hanig said.
Chris Matteo, head of North Carolina Shellfish Growers Association, a trade association representing about 70 growers in the state, and owner of Carteret County-based Chadwick Oysters, explained how much the shellfish industry means economically. North Carolina oysters are being sold out of state and that money is coming back into the state's economy, he said.
"The impact on the state's rural economic development is also meaningful and expanding every year. A lot of us grow oysters in areas that are not a great place to make a living, and it's really impacting the local economies in a positive way," said Matteo.
He told the committee that investments made in the shellfish industry "are really beginning to pay off." The fact that the industry continues to grow after storms and during the pandemic, he said, "is really a testament to your support and to the tenacity of the group that grows shellfish in the state."
https://ncoystertrail.org/wp-content/uploads/2022/06/coastal-review-article-pic.jpg
799
1200
Michaela Abraham
https://ncoystertrail.ncoysters.org/wp-content/uploads/2022/01/NCOysterTrail-1.png
Michaela Abraham
2022-06-01 13:51:00
2022-08-03 10:54:27
Bill would fund efforts to support growing shellfish industry