What's So Special About North Carolina's Oysters?
Savoring the NC Oyster Trail

by Michaela Abraham on Sept. 23, 2022 | Reprinted from NC Coastwatch
Oysters once were as popular as the fast-food burger is today. Since the late-1880's, people have collected, consumed, and enjoyed oysters up and down the East Coast.
In North Carolina, the eastern or American oyster (Crassostrea virginica) lives in waters stretching the southern end of the Albemarle Sound to the sounds and estuaries bordering South Carolina. North Carolina is the only state that harbors both deep water reefs in the Pamlico Sound and low-depth reefs in intertidal waters, as well as reefs that run alongside the shorelines of our marshes.
WHERE HAVE ALL THE OYSTERS GONE?
People have harvested wild oysters off the coasts of North America for over 3,000 years.
Around 85% of oyster reefs worldwide have been demolished as a result of overexploitation. North Carolina's original oyster stocks have now been reduced by approximately 95%, according to the North Carolina Coastal Federation.
Due to historic overharvesting and other environmental stressors, the North Carolina Division of Marine Fisheries (NCDMF) considers the eastern oyster to be a species of concern. Since 2020, 22 million bushels of cultch material — such as oyster shells and limestone marl — have been planted in order to create new oyster habitat, part of a century-long endeavor in the state.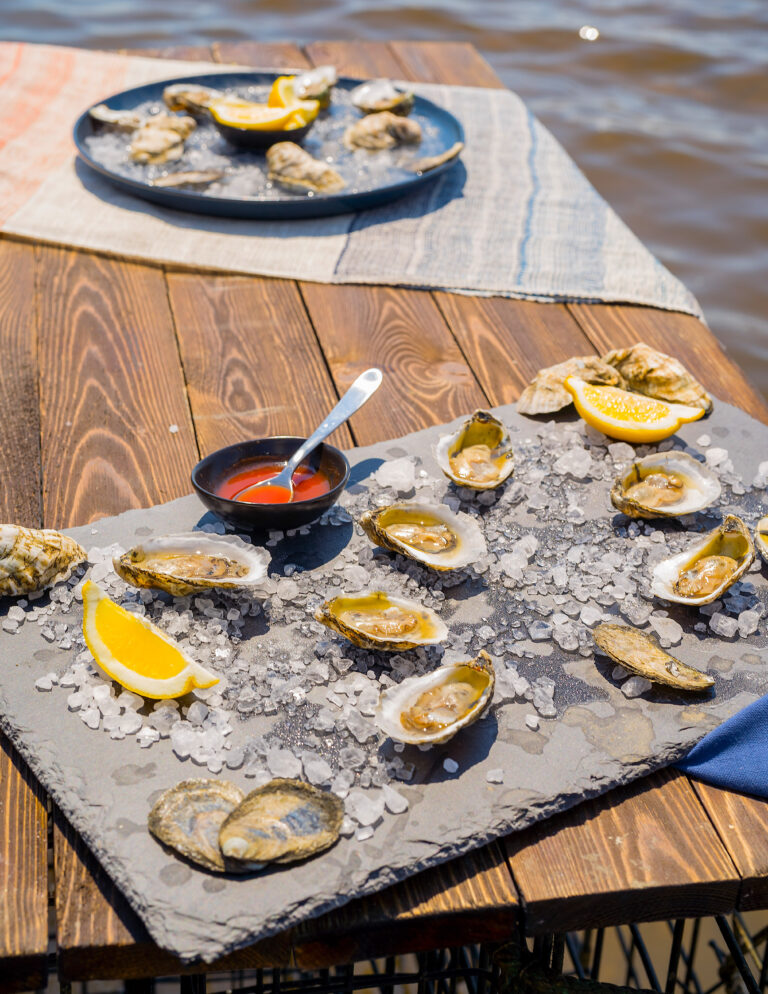 CONSERVING A SPECIES AND BOOSTING AN INDUSTRY
The state's Oyster Steering Committee is a non-regulatory board comprised of researchers, restoration specialists, coastal managers, permit officers, oyster growers, and educators. The committee has been responsible for leading revisions for the ongoing NC Oyster Blueprint Plan, which has expanded and built upon the state's Fishery Management Plan for Oysters, the work of the Division of Water Resources' Basin Planning Branch, and the North Carolina Strategic Plan for Mariculture.
With the expertise of partners like North Carolina Coastal Federation, North Carolina Sea Grant, and federal and state agencies, the Blueprint recommends strategies to ensure that N.C oysters can foster a productive coastal ecosystem and thriving oyster fishery and aquaculture industry.
In addition to the Blueprint, the North Carolina Strategic Plan on Shellfish Mariculture presented recommendations in 2018 to sustainably grow the state's shellfish mariculture industry by supporting local shellfish growers. This plan set 2030 targets for the shellfish industry that included $100 million in value, $33 million in landings, and generating 1,000 new jobs.
North Carolina's aquaculture industry also received national recognition by becoming the first state in the southeast to join NOAA's National Shellfish Initiative. Shellfish farming has the potential to reduce pressures on wild oyster harvests and provide a consistent seafood source. A collaborative North Carolina Sea Grant project determined that in 2019 shellfish landings in the state generated over $27 million and provided 500+ jobs, with more than half of this economic impact coming from farmed oysters.
Restoring and protecting oyster populations — and growing enough oysters to meet market demand — requires thriving businesses, increased environmental stewardship, and awareness of our coastal resources. Not surprisingly, recommendations in the Strategic Plan for Shellfish Mariculture included a "North Carolina Oyster Trail."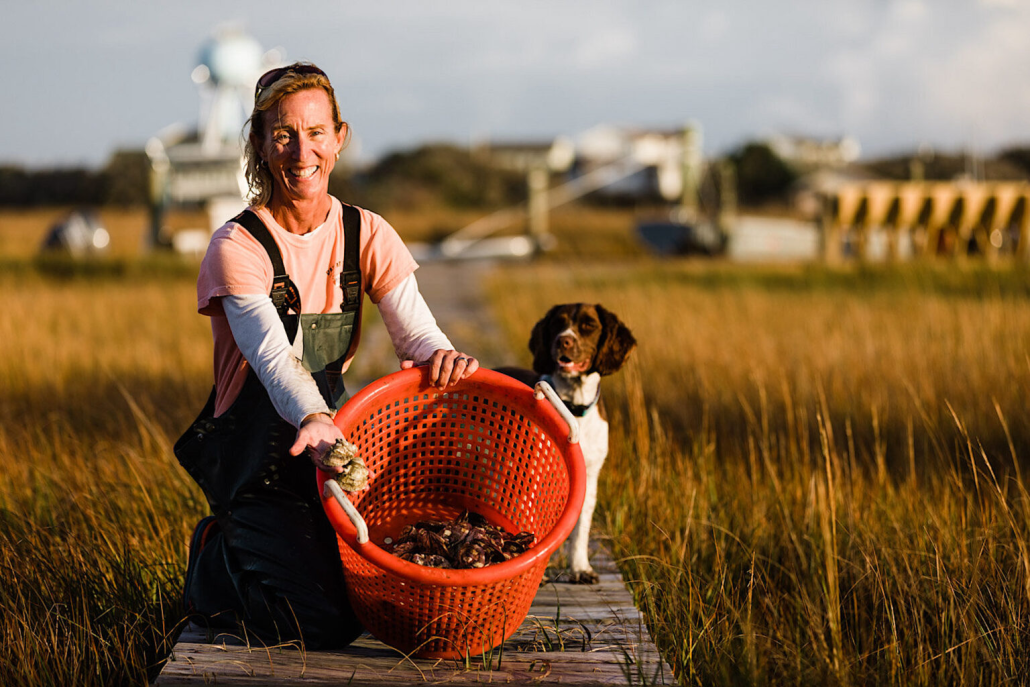 THE NC OYSTER TRAIL
From craft beer to barbeque, culinary and beverage trails feature regional delicacies and provide opportunities for visitors to connect with local food producers. From its launch in 2020, the NC Oyster Trail has covered the state's entire coast. North Carolina Sea Grant and North Carolina Coastal Federation administer the NC Oyster Trail, in partnership with the NC Shellfish Growers Association, to "provide experiences that help sustain and grow N.C. oysters, resulting in economic, environmental, and social benefits to the state's seafood industry and coastal communities."
The Trail includes over 75 members across the state that offer a wide variety of shellfish tourism experiences. Along the Trail, you can find seafood restaurants and markets, shellfish farm tours, recreational and educational activities, and special events highlighting N.C. oysters. "The Oyster Trail has been essential in connecting travelers, foodies, and outdoor adventure lovers to the magic of the North Carolina oyster," says Jane Harrison, coastal economics specialist for North Carolina Sea Grant and lead coordinator of the Trail.
NCOysterTrail.org displays an interactive map of where to eat local oysters or tour a shellfish farm. There are also several educational programs and volunteer opportunities to learn more about the eastern oyster's importance to North Carolina's coastal environment.
Here's a sampling of just a few of the places to taste and learn more about our state's unique oysters.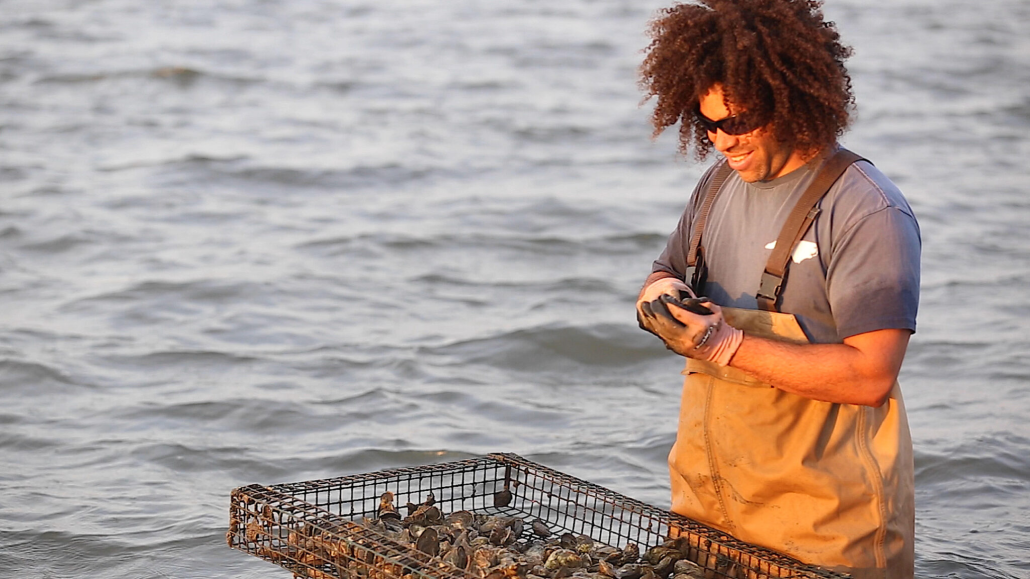 TOUR A WORKING SHELLFISH FARM
Do you know where your seafood comes from? Hop on a boat and learn how we grow oysters in North Carolina. Smell that salt breeze and slurp down some of the most sustainable seafood on the planet.
Slash Creek Oyster Farm (Hatteras Island)
Katherine McGlade and husband Spurgeon Stowe's Slash Creek Oyster Farm provides tours of their operation that are an hour and a half, beginning at the dock at Slash Creek Oyster House. Visitors learn about the equipment and their processes for growing oysters, then take the oyster boat ("The Half Shell") for a 10-minute ride to their lease to see the different stages of oyster growth.
Roysters NC is a family-owned and operated oyster farm in Carteret County's North River. Visitors can schedule a boat tour to visit a cluster of four shellfish farms in and around North River and Wards Creek, and bring-your-own-kayak tours also are available upon request. These excursions provide opportunities to explore the waters — and what grows in them — between Beaufort and Harkers Island.
Middle Sound Mariculture (Hampstead)
Middle Sound Mariculture grows oysters in Masonboro, Stump, and Topsail Sounds. Known for their salty, buttery, rich "Masonboro Pearls" — named after the farmer's daughter, Pearl — Middle Sound Mariculture offers farm tours via Epic Excursions NC and sells oysters directly to visitors.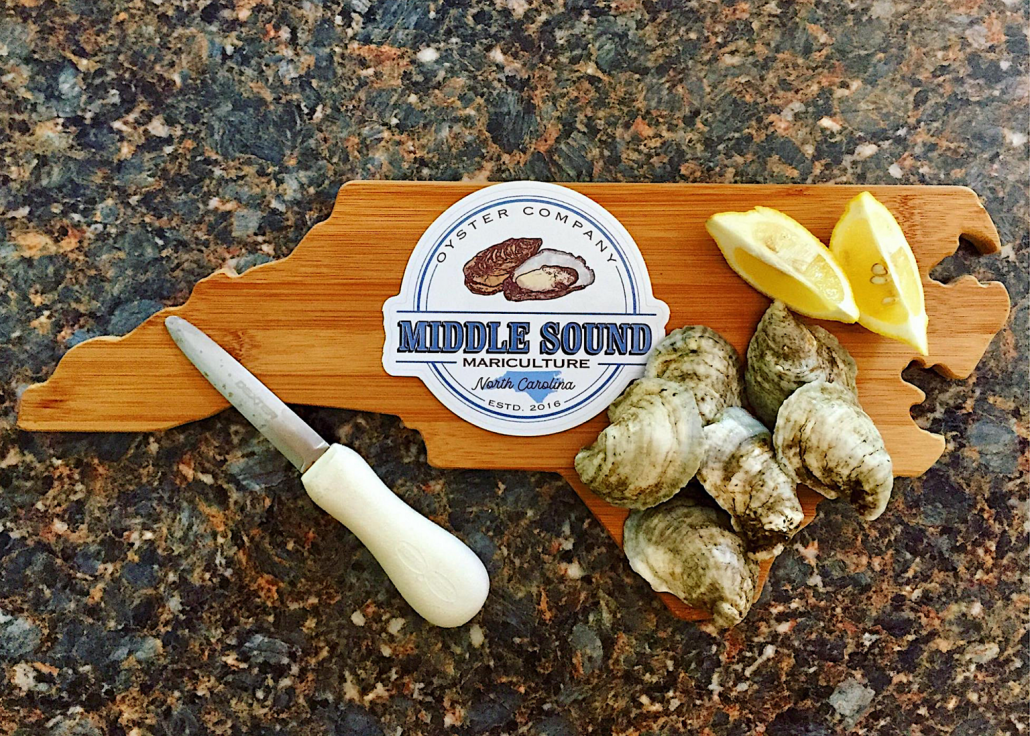 SAVOR THE COAST'S DISTINCT FLAVORS AT MARKETS AND RESTAURANTS
Our state's oysters are available at a variety of markets and restaurants on the coast and inland, including these places on the NC Oyster Trail.
Locals Seafood (Durham and Raleigh)
Locals Seafood, a restaurant and fish market in Durham Food Hall and a soon-to-open establishment in east Raleigh, serves North Carolina oysters year-round, alongside a menu of cooked seafood dishes and a full bar. They have several seafood markets throughout the Triangle.
Native Prime Provisions (Cashiers)
Native Prime Provisions occupies the westernmost point on the NC Oyster Trail. They have a nine-seat chef tasting counter where they serve lunch and dinner, and they carry oysters from Sticky Bottom, Slash Creek, and Ocracoke Mariculture.
Seaview Crab Company (locations in the Wilmington area and inland)
Seaview Crab Company Kitchen & Deli's seafood is fresh, hot, and affordable. Executive chef Brandon Stark prepares dishes with seafood from their market, and customers can order food to go or enjoy it at their outdoor seating area. Nationwide shipping is also available for all their retail products, including fresh seafood.
Oysters Carolina offers farm-to-table, same-day delivery anywhere in North Carolina for free. Their award-winning oysters are consistently rated among the saltiest in the country. Although oyster farming is notoriously demanding, Oysters Carolina eschews mechanical devices; they use arm strength to lift hefty oyster cages. They also offer farm tours at their Carteret County location on request.
Wrightsville Beach Brewery (Wilmington)
Wrightsville Beach Brewery serves N.C. oysters from within 60 miles, whenever possible. They have special wine pairing recommendations based on the dish and the type of oyster. Menu items include po' boy pizza with sauteed oysters, fried oysters over kimchi-spiced N.C. collards, and fried oyster po' boys.
Ocracoke Oyster Company (Ocracoke)
Ocracoke Oyster Company serves fresh Ocracoke Island Devil Shoals oysters harvested daily. They offer many varieties of baked and raw oysters, as well as fried, and oyster stout beer is available on tap.
Parley's Sip & Steam (Washington)
Parley's Sip & Steam offers a wide variety of prepared oysters: raw, steamed, or their house specialty oysters. Oysters Rockefeller, Parley Den oysters, and No Quarter oysters are just some of the locals' favorites. Customers can eat their N.C. seafood with live music each weekend, as well as paired spirit tastings and charcuterie boards.
Saltbox Seafood Joint (Durham)
James Beard Award-winning chef Ricky Moore draws inspiration at Saltbox from classic American fish camps and waterside seafood shacks, with an emphasis on N.C. seafood. At his counter-service restaurant, the fish and shellfish options vary daily. A handwritten menu on a chalkboard tells of the day's offerings.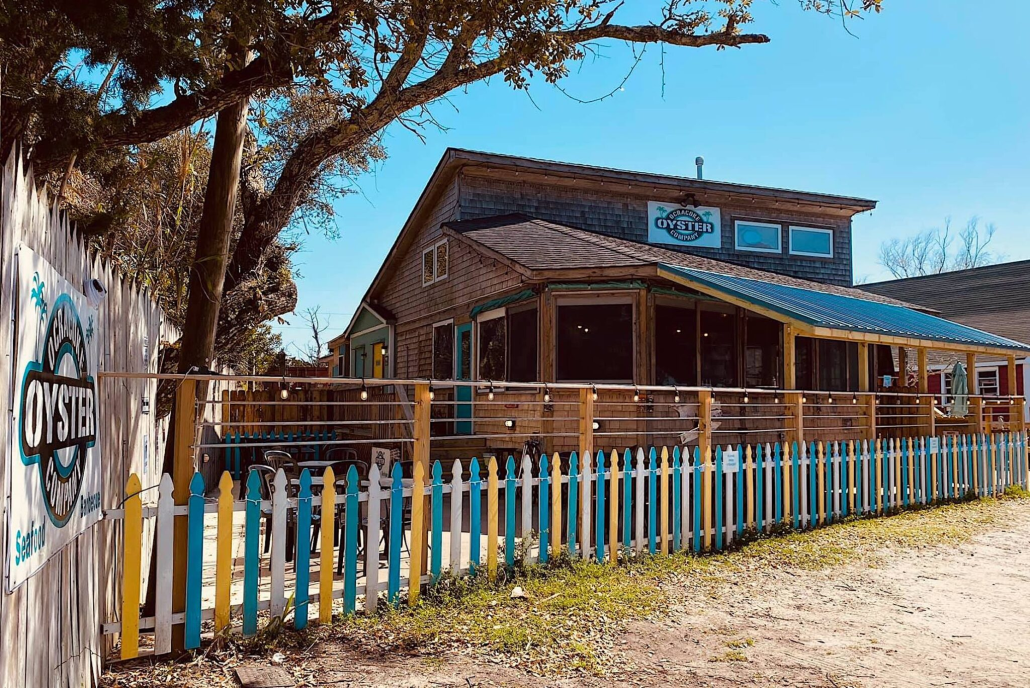 DISCOVER LOCAL OYSTER LORE AND ADVENTURE
North Carolina oysters are available year-round. Wild oyster season begins October 15, but farmed oysters make it possible to enjoy oysters anytime. Here's how to support a healthy coast and the livelihoods of our state's watermen and women.
North Carolina Coastal Federation (Newport, Wanchese, Wrightsville Beach)
North Carolina Coastal Federation is a member-supported nonprofit organization focused on protecting and restoring North Carolina's coastal waters. Their coastal locations provide opportunities to learn more about their living shoreline, water quality, and oyster restoration efforts, as well as opportunities to volunteer or become a Coastal Federation member.
North Carolina Estuarium (Washington)
The North Carolina Estuarium is an environmental education center located in Washington, a soundside community with a deep maritime heritage. The Estuarium provides extensive information about the importance of our state's estuarine ecosystems and why we should protect them, including exhibits about the state's oysters and oyster fishery.
Science by the Sea provides eco-adventures with a choice of three modes of transportation: kayak, stand-up paddleboard, and a flat-bottomed bateau cruise. Tours depart from the historic Beaufort waterfront and visit the four islands in the Rachel Carson Reserve. Visitors can observe diverse habitats and estuarine creatures, including oysters, that dwell in these waters.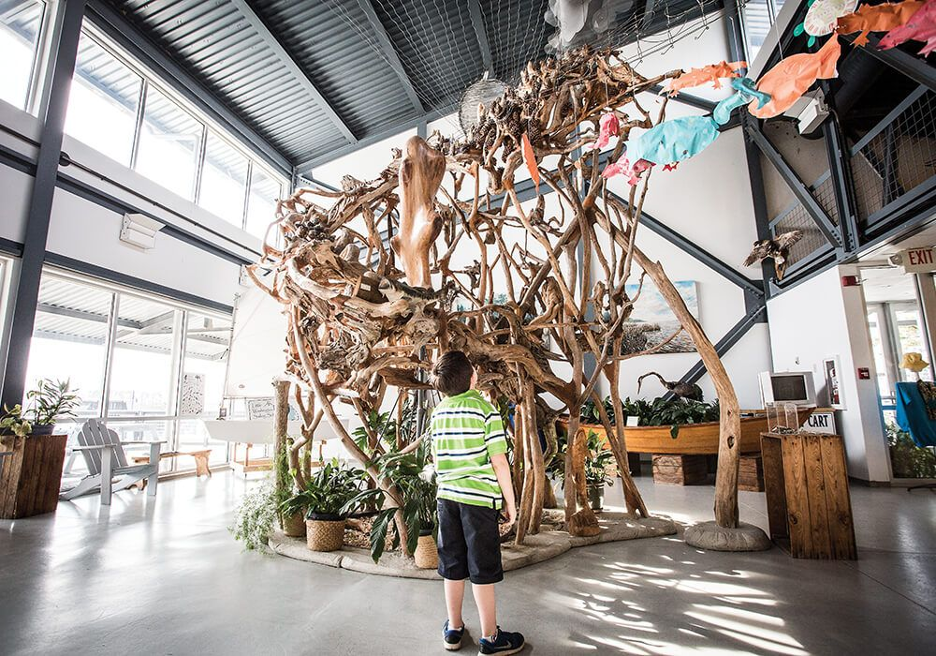 SHELLEBRATE: NORTH CAROLINA OYSTER WEEK
Join the NC Oyster Trail October 10 to 16 to "shellebrate" the history, culture, economy, and ecology of oysters in our state.
Last year, Governor Roy Cooper officially declared North Carolina Oyster Week in a statewide proclamation.
Eighteen in-person and virtual events for the public provided opportunities to engage with oyster growers and harvesters, seafood restaurants, seafood retail markets, recreational outfitters, coastal conservation and education organizations, and seafood festivals.
Again this year, throughout October, a wide range of different events and programs will continue the shellebration. Visit NCOysterTrail.org for the complete list of festivities, more places to see on the Trail, and other resources. Follow the NC Oyster Trail on Facebook and Instagram.
More about seafood from North Carolina Sea Grant
Michaela Abraham is a North Carolina Sea Grant community engaged intern who studies fisheries, wildlife, and conservation biology at NC State University.
lead photo credit: Credit: Justin Kase Conder, © 2021 Justin Kase Conder.
https://ncoystertrail.org/wp-content/uploads/2022/09/1-opening-spread-3386t_20210617_by_Justin_Kase_Conder_3386-1500x600-1.jpg
600
1500
Michaela Abraham
https://ncoystertrail.ncoysters.org/wp-content/uploads/2022/01/NCOysterTrail-1.png
Michaela Abraham
2022-09-23 12:54:00
2022-09-30 12:56:07
What's So Special About North Carolina's Oysters?
Savoring the NC Oyster Trail