Food Tourism Satiates Hunger For Novelty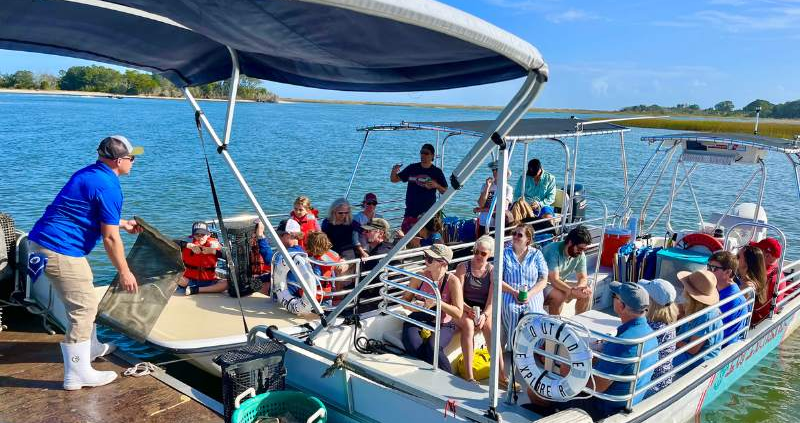 by Miriah Hamrick on February 17, 2023 | Reprinted from WilmingtonBiz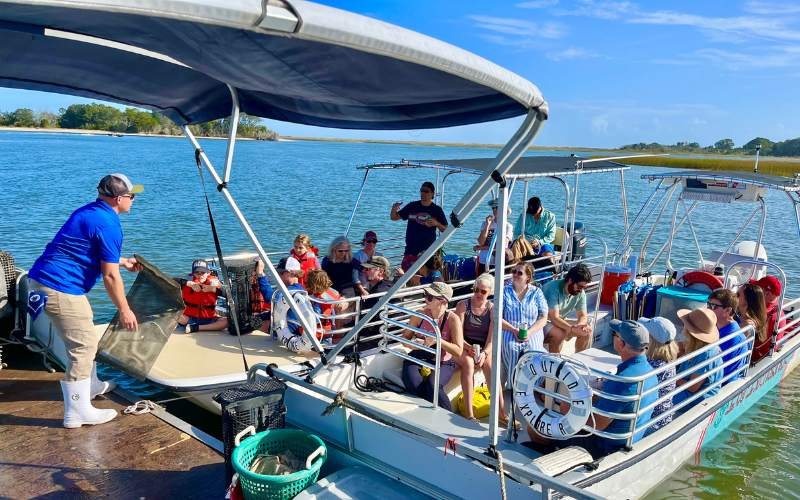 For Ian and Kristi Balding, inspiration struck during a vacation in the Bahamas.
The couple was drawn to outdoor adventures while on vacation, and during this trip, they booked an experience where the captain aboard a chartered boat caught fish, transported guests to an island and cooked the fresh catch over a bonfire.
"It just felt like adventure," Kristi Balding said.
The Baldings started their business, Epic Excursions, to provide a similar sense of adventure on uninhabited barrier islands near Wrightsville Beach. At first, the company didn't offer food experiences like the one Kristi Balding recalled; instead, it focused on other island activities such as boat charters, paddleboarding or camping. After a couple of years, Epic Excursions began adding options for private groups: a catered seafood boil prepared by Cape Fear Boil Company; then a more informal steam pot version provided by Topsail Steamer; and most recently, a collaboration with True Blue Butcher & Table, with choices ranging from burgers cooked fireside to steaks served with champagne and caviar.
"It's that whole experience of going out to an island and doing something fun and different," Kristi Balding said.
Last September, the company introduced its first public food excursion with the Oyster Farm Tour & Tasting experience, a three-hour boat tour that starts with a trip to Middle Sound Mariculture, where owner James Hargrove leads a tour of his oyster farm and shares information about oyster cultivation. The last two hours of the tour are spent on an island off Wrightsville Beach, where guests enjoy an oyster tasting paired with complimentary wine.
These tours have proved popular so far; the most recent trip in February sold out.
"Right now, with it getting advertised and people learning about it, we are seeing a lot more excitement," Kristi Balding said.
Originally envisioned to prop up business during slower fall and winter months, she now sees a possibility of continuing the oyster farm tours year-round. In general, she said the food excursions have become "really popular" and now make up about half of the business.
Like the Baldings and their customers, travelers seem hungry for guided experiences in destinations, particularly coastal ones such as Wilmington. "Beach," "tour," and "island" were among the most popular search terms on Tripadvisor last year, according to the organization's Year in Review report for 2022. The report also noted a surge of interest in unique, small-group experiences like those provided by Epic Excursions and another local purveyor of food tourism, Taste Carolina Gourmet Food Tours.
Previously known as Culinary Adventures with Liz Biro, the Durham-based Taste Carolina took over Biro's Wilmington operation in 2014. Today, Taste Carolina offers tours in nine cities in North Carolina: Asheville, Chapel Hill/Carrboro, Charlotte, Durham, Greensboro, Hillsborough, Raleigh and Winston-Salem in addition to Wilmington.
Over three hours, participants on Wilmington's walking tour are hosted by chefs and owners at five or six restaurants, where they enjoy a curated sampling of the establishment's food and drink offerings.
"We really look at these tours as a collaborative opportunity to show off downtown Wilmington as a culinary destination," said Lesley Stracks-Mullem, owner of Taste Carolina.
Along the way, local guides share stories about the architecture, culture and history of downtown, which Stracks-Mullem said frequently comes up in guest feedback as an unexpected bonus.
"What we find is people sign up because they want to eat delicious food and spend time with friends and family, but then they're surprised that they learned so much about downtown," she said.
Currently, Taste Carolina offers tours in Wilmington Tuesday through Saturday, according to Stracks-Mullem. The company has tours booked every Friday and Saturday in February, and that number increases in the busier spring, summer and fall months.
To meet rising demand for Wilmington's food tours, Stracks-Mullem said she hopes to increase tour availability to daily offerings with two options on Saturdays.
"That way, when people are coming into town, or if they have visitors coming into town, or if they want to get together with their work team or friends, there will be something on our schedule when they're looking for it," she said.
Stracks-Mullem said she sees the growth of Wilmington's food tours as part of a larger trend of food tourism.
"We focus on restaurants that are locally owned, that are supportive of the local culinary and farm community. They're sourcing ingredients locally, and people get to learn more about that," she said.
Kristi Balding described a similar force at work with Epic Excursions' new oyster farm tour.
"That tour is enticing to people who really want to know the culture, the technical side of oysters and how they're raised and farmed. We have people that want to get involved with stuff like that on the tours," Kristi Balding said, "and we have some people who just want to throw back some oysters and enjoy an island."
https://ncoystertrail.org/wp-content/uploads/2023/02/image-2.png
500
800
Michaela Abraham
https://ncoystertrail.ncoysters.org/wp-content/uploads/2022/01/NCOysterTrail-1.png
Michaela Abraham
2023-02-17 10:34:53
2023-02-20 10:36:56
Food Tourism Satiates Hunger For Novelty