Farm Fresh ~ Ghost Fleet Oyster Co.
by Jennifer Kornegay on August 9, 2022 | Reprinted from Oyster South
FARM FRESH: GETTING TO THE MEAT OF SOUTHERN OYSTER FARMS
Cody and Rachel Faison are farming oysters to reap a harvest they can sell. But that's only one aspect of their Ghost Fleet Oyster Co. farm in Hampstead, North Carolina. The couple puts equal emphasis on environmental sustainability, and they're educating others about the need to improve local waters and sharing oyster aquaculture's active role in these efforts. It's why Ghost Fleet began its farm tours in 2021.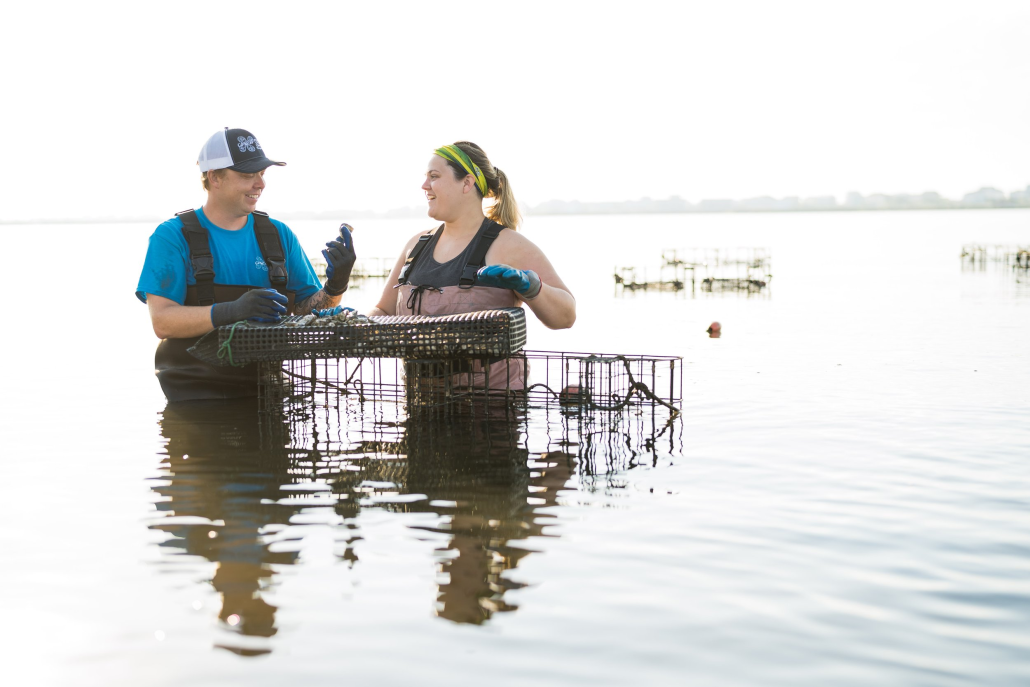 But before there could be farm tours, there had to be a farm. The Faisons started oyster farming in 2019 when they realized that, in conjunction with a shared love of eating oysters, they each had interests and strengths that would prove useful on an oyster farm. Rachel is an environmental scientist who specializes in sustainability. Cody has a food background, with a short stint at culinary school under his belt, plus a life-long love of fishing and being on the water. "We knew we could take these things and put them to work on an oyster farm," Rachel says. "We became kinda obsessed with the whole culture of it," Cody adds, "and felt we had to be a part of it. We couldn't not do it; it's a passion."
The farm's name stems from another pastime they're passionate about. "We love diving off the NC coast, called the 'graveyard of the Atlantic,' and I saw a poster referring to the many shipwrecks as the Ghost Fleet of the Atlantic," Cody says. "We felt like that name had a quintessential North Carolina feel to it, referencing the state's maritime history and culture. And shipwrecks are great habitats for marine creatures. Wild oyster reefs and oyster farms are too. It just fit."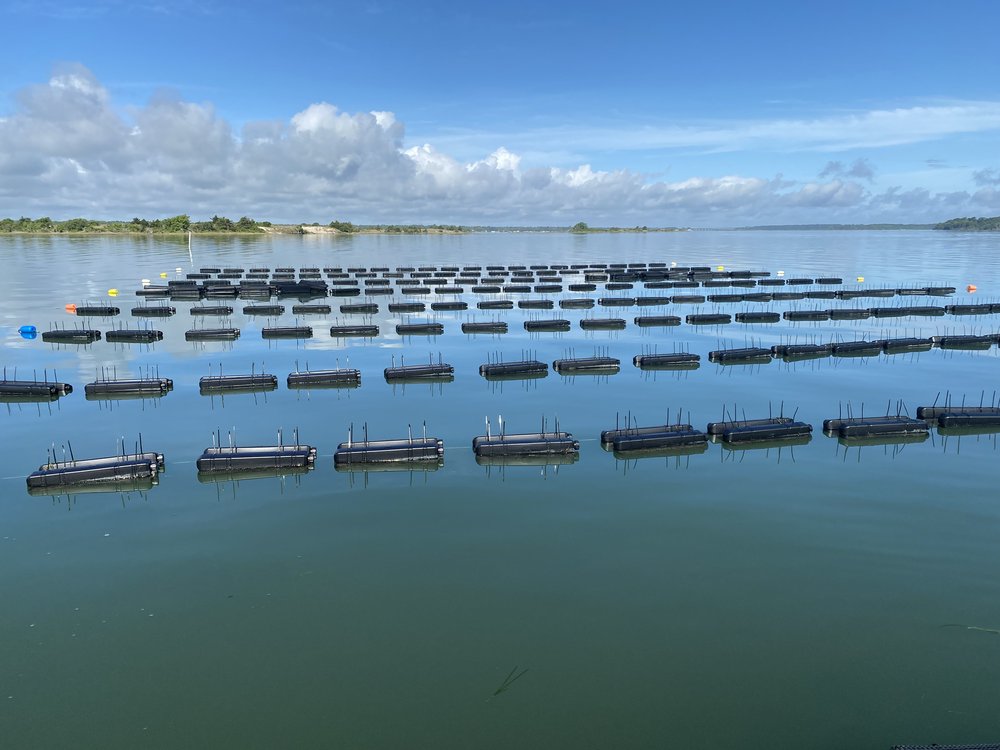 Today, 50 percent of Ghost Fleet's business comes from oyster sales, but the farm's sustainability education – and the farm tours that teach it – are also a main pillar of the company. He and Rachel are both certified Coast Guard Captains, a requirement to take people on farm tours. Ghost Fleet also partners with local captains like Allen Wilson, owner of Coastline Captain, to help during the busy season and with large tours..
"We decided tours were the best way, a natural way, to educate our area on what this is farming stuff is all about," Cody says. "Everything we're doing and why is much easier to explain when we have people out at a farm site." Tours of up to six people take to the water for three and a half hours. They start by looking at oyster seed and go all the way to Ghost Fleet's grow-out farm lease, where they conduct a mini-harvest as a show-and-tell.
The first lesson is teaching that smaller farm-raised oysters are tasty oysters that complement the wild harvest and deliver big benefits to the ecosystem. "The raw bar market wants what we are raising, but that's the opposite of the history in this area, where people think only the big wild ones are good oysters," Cody says. "We're also teaching that you can eat farmed oysters all year-round now. And, we're pointing out the environmental and sustainability positives of our aquaculture."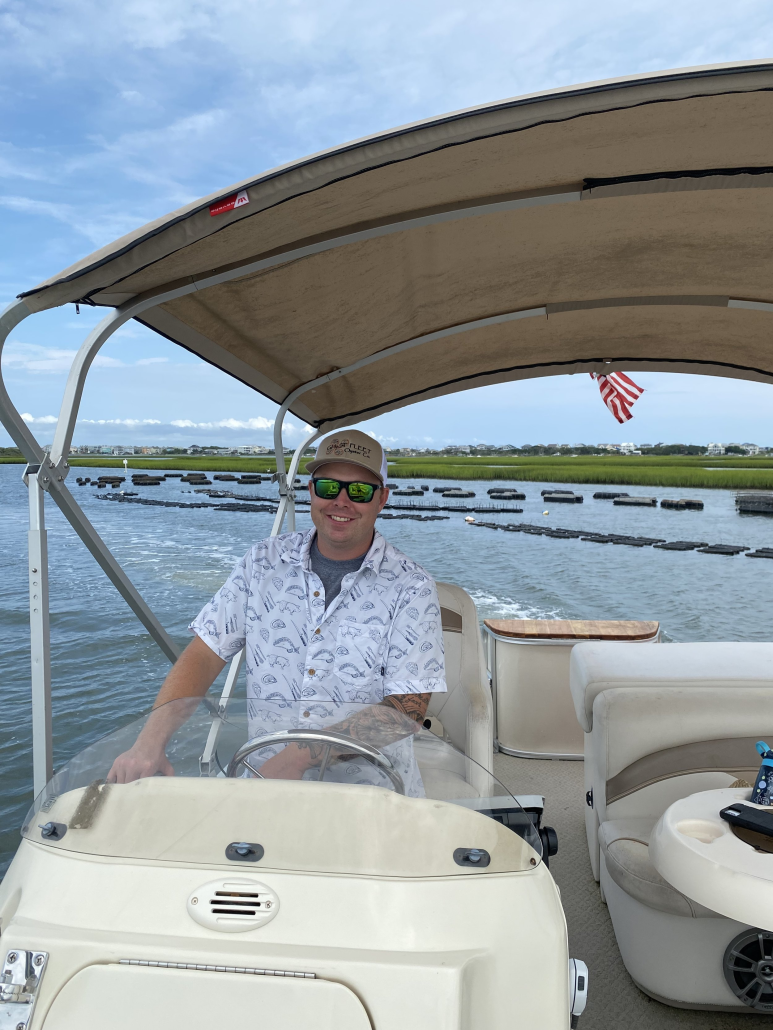 The next lesson focuses on the "merrior" concept and is immersive with plenty of oysters for sampling. While North Carolina doesn't allow eating farmed oysters right out of the water, the Faisons harvest a few and tag them just like they would for a normal, larger harvest, and place them in a certified shellfish cooler on the tour boat. Once they are down to temp, they get shucked and served to tour guests. "We try to interact with our fellow farms, too, and show tour folks that there are lots of great farms in these waters. We talk about how maybe they farm differently and how their flavor can be different too," Cody says. "We really want to highlight the variety," Rachel adds. "We liken it to craft beer."
The tours have proven so popular, they're running three to four a week yearlong, providing blankets and hot chocolate in the brisk winter months. This past summer, Ghost Fleet is quickly approaching 100 tours. And every trip is unique. "We start by telling them why oyster farming is important, why our business is important, but also ask them what they want to learn," Cody says. They're branching out too, adding a sunset option. "It's locals and tourists signing up for our tours," Rachel says. "They bring wine and snacks. It's a teaching experience but lots of fun too."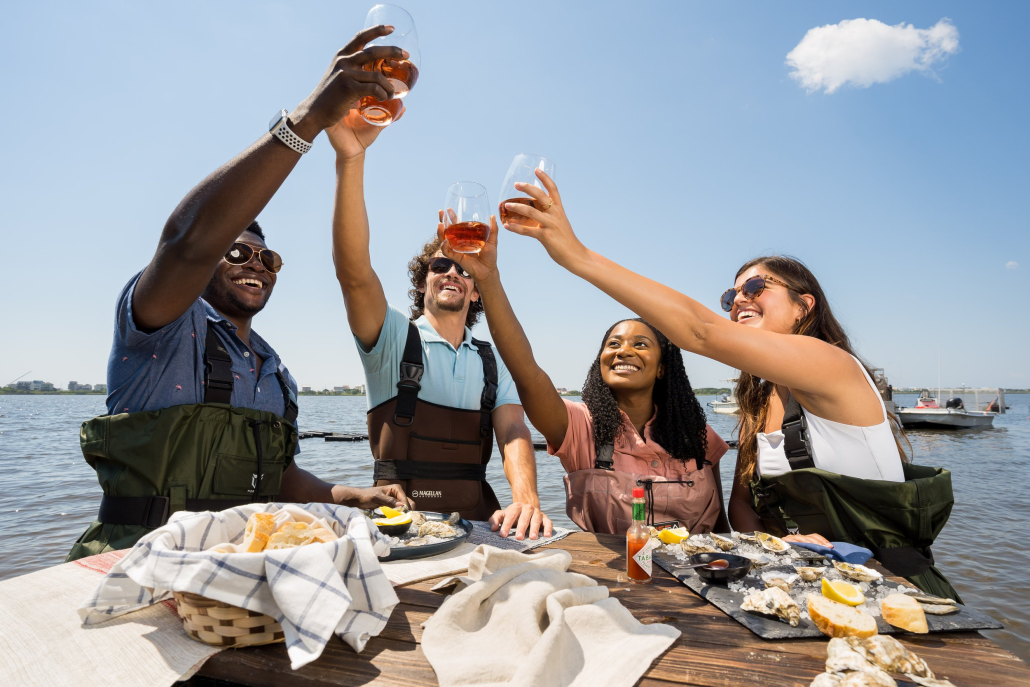 The main goal is to hammer home the community aspect of the oyster farming industry and invite tourgoers to join. In fact, there is an NC Oyster Trail that maps out restaurants, farmers, festivals and other aspects of the oyster community that they encourage their guests to explore. "We're striving to get them excited about being a part of it as the consumer," Cody says. "We have to have consumers to have an industry."
Ghost Fleet offers free tours too; in fact, these outings make up about 30 percent of the tour schedule. "We take out 4-H groups, chefs and restaurant owners, local chamber of commerce and government people," Cody says. "We want them to learn and then share what they're learned. Not just for our farm's future, but for the entire industry. More understanding is always better."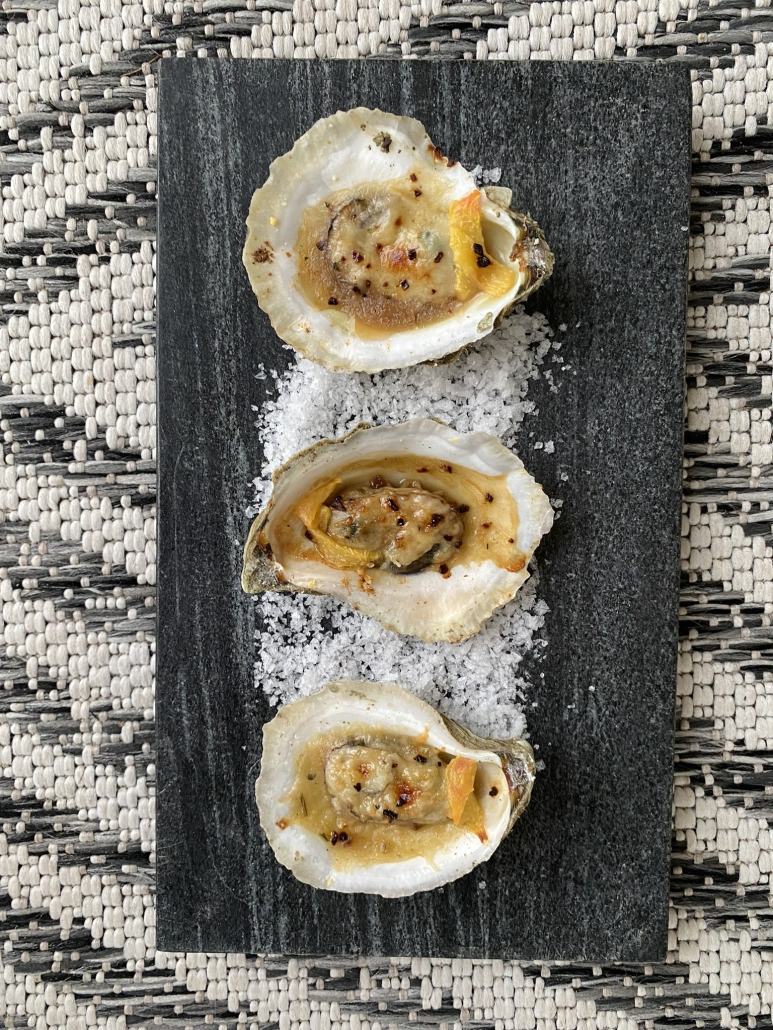 And Ghost Fleet's give-back mindset doesn't stop there. The farm invests some of its tour revenue in a shell-recycling program. "It's a service we provide for free to any area restaurant with oyster shells," Cody says. Ghost Fleet worked with local restaurants to determine hurdles that they face when recycling oyster shells – such as the smell, staff education and transportation to recycling centers. Participating eateries get food grade buckets with lids, so they can use it right at their shucking station. When they're full, they put them outside, and Ghost Fleet picks them up and delivers them to the North Carolina Coastal Federation, which uses the shells for reef restoration and living shorelines.
One restaurant just hit one ton of shells recycled through the program. "We're showing that this industry is even more sustainable than you think," Rachel says. "Yes, our oysters filter a lot of water, but we and other oyster farmers can and are doing so much more. We're just doing everything we can to ensure we have healthy water. That benefits our farm, but it benefits everyone here."
https://ncoystertrail.org/wp-content/uploads/2022/08/image-13.png
667
1000
Michaela Abraham
https://ncoystertrail.ncoysters.org/wp-content/uploads/2022/01/NCOysterTrail-1.png
Michaela Abraham
2022-08-09 11:38:00
2022-08-15 11:43:03
Farm Fresh ~ Ghost Fleet Oyster Co.